Press, Publicity, Photos, & Pull-Quotes
Want our Electronic Press Kit? 
Check out our EPK with Bio, more press and production shots, videos, and more!
 
Need publicity photos?
Click below for a gallery of current & approved high resolution imagery:
 
Want to interview us?  
We give great radio, and we look beautiful in print!  
Contact Us and let's gab!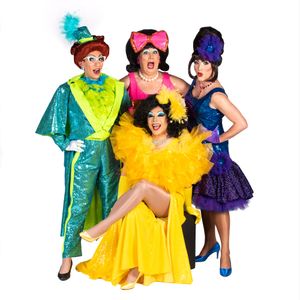 ★CURRENT RAVES FOR THE KINSEY SICKS!★
★★★★
"Horrendously funny!"
★★★★
"... stunning vocal performance paired with laugh-out-loud quips."
★★★★
"a tour-de-force"
★★★
"... singing prowess, lyrical dexterity & political punch  
... if you don't have fun at The Kinsey Sicks...
you've got a problem."
★★★★
"Highly, Highly Recommended"  
★★★★
"... witty songs
... some of which will forever be etched in my mind."
★★★
"... superb songs and camp charm
... undeniably gifted vocalists
... the kind of show the world needs right now." 
★ And MORE Critical Acclaim! ★
"The hottest ticket in town ... taking the cabaret world by storm ... voices sweet as birdsong." 
~ New York Times
"Wonderfully smart, politically pointed and liberating … examples of The Kinseys' contagious brand of rib tickling abound ... hilarious ... both clever and artfully crude ... lovably ribald."  
~ London Times 
"If you haven't made the acquaintance of The Kinsey Sicks, it's high time you did ... Uproarious ... brilliant ... authentically joyful."  
~ Washington Post   
"One of the more uniquely original (and thoroughly fun and entertaining) acts we have encountered in years ... rich four-part harmony ... hilarious ... this is one act that should not be missed, either in person or on CD." 
~ Billboard Magazine 
"Inventive ... riotously funny ... sublime." 
~ Variety
"Outrageousness tinged with outrage ... witty ... hilarious ... a band of such inventively diabolical brains ... gets sardonically darker — and rewardingly so ... It's a piercing cry from the heart." 
~ Washington Post  
"Riveting ... a humbling, hilarious delivery system of painful truths ... Things You Shouldn't Say will push buttons you didn't know you had. And there is perhaps no higher compliment to give a queen than that."   
~ Forbes Magazine
"What do you get when you mix drag and a cappella? Heaven!"  
~ BroadwayWorld
"Favorite performers of the [Edinburgh Fringe] festival so far!" 
~ Sky News (UK) 
"All-you-can-enjoy buffet of fabulous … amazing voices ... they perform superb a cappella versions of songs you will never remember the same way again." 
~ Scotland on Sunday  
"Top 6 Pick of the Season"
~ The Sunday Mail (Australia) 
"Only one a cappella group has remained steadfastly lewd, crude, and rapturously reviewed ... Legendary for their succulence, sarcasm, and style, the Kinsey Sicks can easily shock and awe unsuspecting audiences ... Rollicking ... [They] never fail to bring down the house." 
~ Huffington Post 
"What proves possibly most striking ... isn't merely their phenomenal vocal blend, but their astonishing ability to cross the line between harmonic brilliance and side-splitting comedy." 
~ broadwayworld.com 
"The Royal Shakespeare Company of drag performance." 
~ KQED San Francisco (National Public Radio) 
"Outrageous, marvelous, hilarious ... they're golden-throated vocalists who defy categorization." 
~ Chicago Tribune 
"Gloriously, proudly bad taste ... gut-busting parodies and raucous shtick ... high camp, unafraid, subversive ... astonishing." 
~ SF Chronicle 
"Dragapella, with its political bite and raunchy, sometimes sick humor, falls on a short list of titles that would appeal to what one could call, in shorthand terms, The Daily Show crowd... On this particular Saturday night, the front-stage tables included a group of retirement-aged women who looked like they got lost on the way to Menopause the Musical ... But they were laughing as hard as anyone in the room. And really, you'd have to be Pat Robertson waiting for the bus to Bob Jones University not to." 
~ Las Vegas Review Journal 
"The Kinseys' outrageous persona is a Trojan horse for serious political comment and a shield from behind which gay men can impose socially transgressive ideas upon straight society ... Parodies of well known tunes get the biggest laughs, but it's the quartet's self penned material that demonstrates the extent of their talent." 
~ Fest Magazine (UK) 
"Riotously funny ... ferociously creative ... a must-see ... everyone will enjoy themselves!" 
~ Time Out (New York) 
"The Kinsey Sicks are an a cappella drag queen quartet who deliver everything you would hope and expect an a cappella drag queen quartet to deliver – and do so very well ... they have fine voices all; producing close harmonies that are rich and effective ... It's an hour of jaunty high spirits, performed with a handbag full of fun." 
~ Chortle, the UK Comedy Guide 
"As funny as they are harmonious, they have already cemented their national reputation." 
~ The Boston Globe 
"Gut-wrenchingly funny ... pitch perfect a cappella harmonies." 
~ The Advocate 
"Hammy, hilarious music with a message ... These are four men with big hair and big voices." 
~ Miami Herald 
"For connoisseurs of gender-bending comedy who find Dame Edna too tame, The Kinsey Sicks up the ante in Dragapella - quadrupling the outlandish feminine allure while boosting it with considerable vocal skills and a grab bag of outrageous, often naughty, musical numbers ... over-the-top silliness ... hilarious ... lyrics clever enough for Ira Gershwin or E.Y. Harburg." 
~ Houston Chronicle 
"Wickedly funny ... outrageous ... The Kinseys have earned flat-out critical raves." 
~ Detroit Free Press 
"Beautifully sung, comic and politically savvy. It was a lark with substance and the audience (and I) went wild." 
~ Montreal Gazette 
"Tight harmonies the Andrews Sisters would have envied. [V]ery funny ... intelligent ... touching." 
~ Boston Herald 
"Sublime ... biting wit ...The Kinsey Sicks present some of the best tight harmonies that I have heard in a long time. They have pitch perfect doo-wop in songs that cross the line of political correctness. They have the voices and harmony of angels, but they are devilishly sinful." 
~ Talking Broadway 
"The Kinsey Sicks have produced one of the most joyous evenings of sharp comedic and musical material I've seen in decades." 
~ Theatermania.com 
"The Kinsey Sicks will put a smile on your face and a song in your heart. These four musicians-actors-writers-composers-drag queens are wickedly gay, and man, can they sing! Completely a capella, their material is intelligent and scathingly funny. Their lyrical parodies of well known songs will have you rolling ... geniously hilarious ... excellent original tunes ... brilliant. With their impeccable timing, precise harmonies, and cultural savvy, the Kinseys represent fabulous, satirical queer humor at its finest." 
~ In Los Angeles Magazine 
"Oy Vey in a Manger, a ribald, ridiculous, raunchy, decidedly R-rated romp through the best and worst of Christmas, is lighting up the Washington DC Jewish Community Center's Goldman Theater with laughs and guffaws ... [I]n mellifluous voices, they harmonize and belt with the best of 'em. The Kinseys make the Glee club on Fox television with its risque teenage trysts look like a preschool ... A new and subversive holiday tradition." 
~ Washington Jewish Weekly 
"Unlike other drag groups, The Kinsey Sicks can really sing - and they do, beautifully. They create charming harmonies, and never lip-synch. Unlike others, their material is intelligent, very funny, and also very Jewish." 
~ Ha'aretz (Israel)