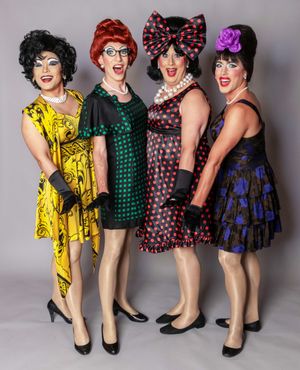 Oy Vey in a Manger
The Hit Heretical Holiday Show!
In Oy Vey in a Manger, we find Angel, Winnie, Trixie, and Trampolina trying to sell off their manger – yes, that manger – before it's foreclosed upon. Crises arise, secrets are revealed, Jewish-Gentile tensions surface, and mayhem ensues – all in glorious four-part harmony.
Oy Vey boasts The Kinsey Sicks' reinterpretations of holiday classics, such as "Vanna White Christmas," "Anchor Baby," and "Lusty the Snowman." PLUS, indulge in hilarious Jewish satiric fare, including "Don't Be Happy, Worry," the Chanukah spa classic "I Had a Little Facial" and, of course, the requisite and new Christmas cuisine standard, "Soylent Night."
"

In an ecumenical display of wicked joie de vivre, the Kinsey Sicks are sending up everything that's holy in "Oy Vey in a Manger," a raunchily audacious declaration that nothing about the holidays is sacred… If you haven't made the acquaintance of The Kinsey Sicks, it's high time you did."
— The Washington Post
"

... a raunchy parody of a holiday show that could make even Scrooge smile (supposing he had a modicum of gay sensibility) "
— New York Post
"

'Oy Vey in a Manger,' a ribald, ridiculous, raunchy, decidedly R-rated romp through the best and worst of Christmas, is lighting up the Washington DC Jewish Community Center's Goldman Theater with laughs and guffaws... [I]n mellifluous voices, they harmonize and belt with the best of 'em. The Kinseys make the Glee club on Fox television with its risque teenage trysts look like a preschool... A new and subversive holiday tradition. "
— Washington Jewish Weekly
"

The Kinsey Sicks dazzled a sold out audience ... The Kinsey Sicks have an original premise and sharp writing skills. There was nary a moment when the audience wasn't roaring with laughter. The Kinsey Sicks take jokes to the extreme and they occasionally go too far, but that's the point: to strike nerves and to jolt beliefs, all in seamless harmony. Their cleverly apt expressions and surprising puns, coupled with their contemporary pop culture references... the Kinsey Sicks are not afraid to sprinkle acerbic cultural and religious criticism into their show... Impressive? Absolutely. Fiercely feminist, flamboyant, flashy and intensely intelligent, the Kinsey Sicks offer a refreshing and absolutely hilarious brand of entertainment."
— City Revealed Magazine (Cedar Rapids, IA)