"

What proves possibly most striking... isn't merely their phenomenal vocal blend, but their astonishing ability to cross the line between harmonic brilliance and side-splitting comedy."
— broadwayworld.com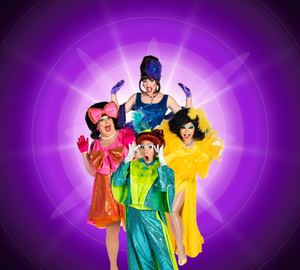 Drag Queen Storytime Gone Wild!
America's most potty-mouthed, politically outspoken – and longest-running – drag a cappella quartet has somehow been put in charge of morning assembly at your local elementary school. What can possibly go right? 
In this brand-new a cappella musical, no Disney tune, nursery rhyme, or TV theme song is safe from their signature Dragapella® treatment of outrageous parodies in delicious four-part harmony. With over a dozen new songs, paired with scathing satire and Kinsey Sicks classics from their 30 years of appalling audiences, this brand-new musical from America's Favorite Dragapella® Beautyshop Quartet has been rated "PG" for "Patently Ghastly."
Trigger Warning: This children's show is unsuitable for children, and may provoke strong reactions among people named DeSantis or Taylor Greene.
Featured Music Videos
*NEW* - Poof the Magic Drag Queen
Praise for Storytime!
"

Tour-de-force of a show that's a veritable blend of below-the-belt humour and astute political satire...all set to pitch-perfect harmonies"
— The List (UK)
Book Drag Queen Storytime Gone Wild!