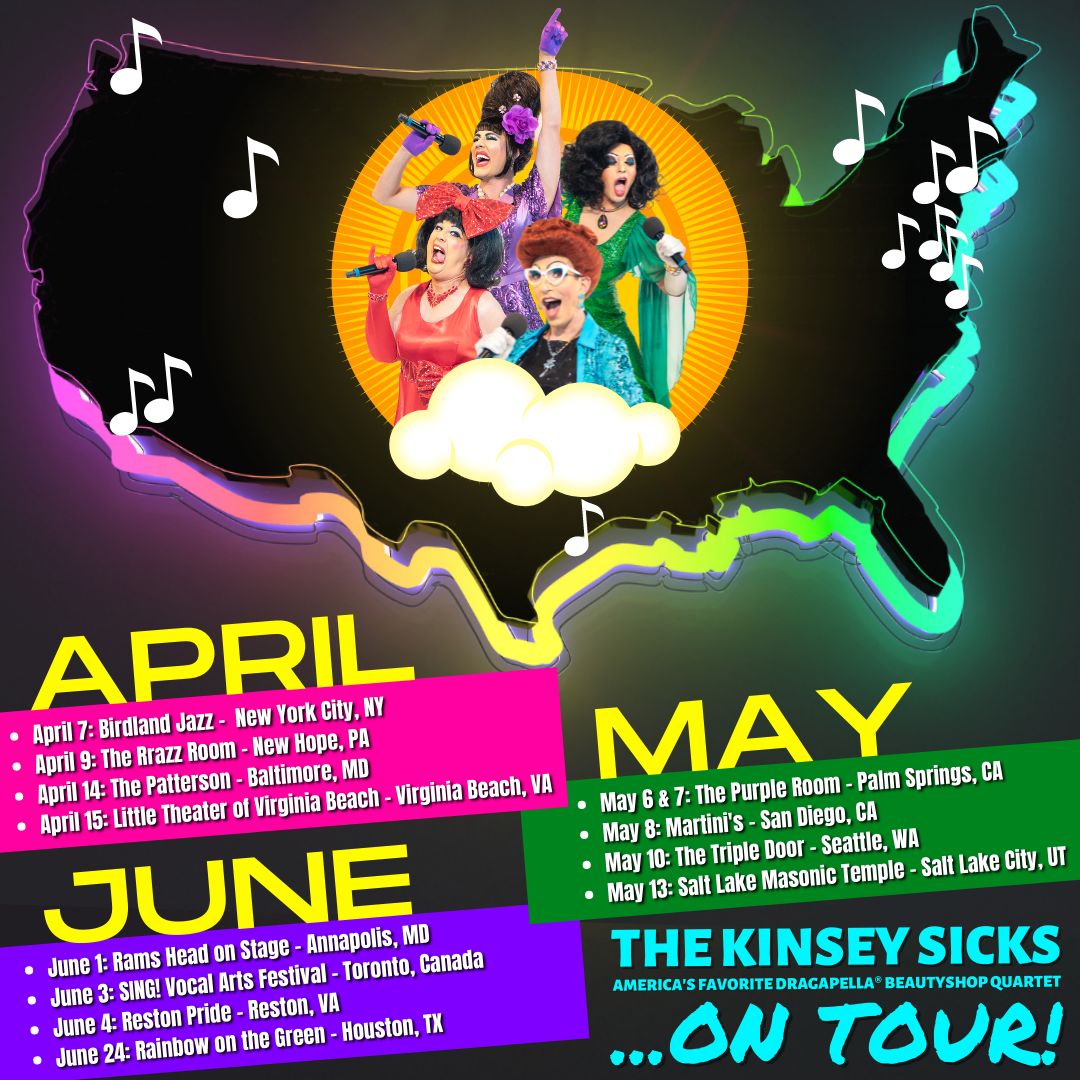 Although 2022 seems determined to be another sh**show, join America's Favorite Dragapella® Beautyshop Quartet as they inject joy and humor back into the world this Spring with a fresh bouquet of new tunes and fan favorites in their latest musical – DRAGAPELLA! – touring the East Coast in April! 
Armed with vaccines, boosters, antibodies, and more masks than a Ron DeSantis press conference, The Kinsey Sicks kick off their tour with a debut at the legendary Birdland Jazz in New York City on April 7 – it's a one-night stand you won't regret. 
These goofy gals then hit the road for the rolling hills of Bucks County with a rollicking return to the Rrazz Room in New Hope, PA on April 9. 
The Kinseys are thrilled to return to Baltimore's historic venue The Patterson, courtesy of the incredible arts and education collective Creative Alliance on April 14. 
Make a trip to the Atlantic Coast and celebrate Tax Day as the girls make their debut at one of Virginia Beach's oldest theater companies with the Little Theater of Virginia Beach on April 15! 
Everything's Coming Up Roses... 
If April showers bring May flowers, then the girls are flourishing in Salt Lake City painting Palm Springs purple, singing over martinis in San Diego, and showing off their triple-threat act in Seattle this May! In June, they're ramming more music in their heads so they can SING! in Annapolis & Toronto, but they're certainly not going to Reston their laurels this Pride Season! Finally, they'll discover if it truly isn't easy being green – Houston, we do NOT have a problem. 
Upcoming Roses: 
May 6 & 7: The Purple Room – Palm Springs, CA 
May 8: Martini's San Diego (CA) 
May 10: The Triple Door – Seattle, WA 
May 13: Salt Lake Masonic Temple – Salt Lake City, UT 
June 1: Rams Head on Stage – Annapolis, MD 
June 3: SING! Vocal Arts Festival – Toronto, Canada 
June 4: Reston Pride – Reston, VA 
June 24: Rainbow on the Green – Houston, TX