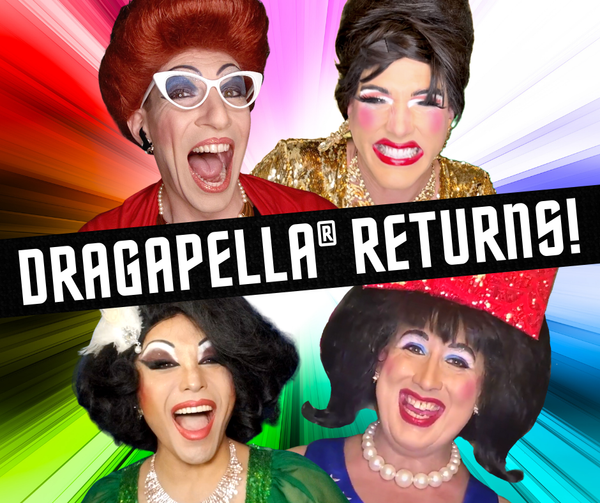 While many predicted we would "disappear, like a miracle," we, like so many of you, have endured and are tickled pink to sing our Dragapella® hearts out at NYC's legendary Birdland Jazz and the historic Uptown Players in Dallas. We are also thrilled to return to some of our favorite places like Theater J in Washington DC, The White Theater in Kansas City, Reston Pride in Virginia, and our unofficial home-away-from-home, The Palm in Puerto Vallarta!  
Mark your calendars now and stay tuned for ticketing!  
Here's where to see us (so far!): 
2021
Oct 2 & 3: Overland Park, KS – The White Theater 
Dec 10 - 12:  Dallas, TX – Uptown Players 
Dec 17 - 26: Washington, DC – Theater J 
Dec 28 & 30: Puerto Vallarta, MX – The Palm 
2022
Jan 4 - Feb12: Puerto Vallarta, MX – The Palm 
Apr 7 & 8: New York City, NY – Birdland Jazz 
Apr 9: New Hope, PA – The Rrazz Room 
Apr 14: Baltimore, MD – Creative Alliance 
Apr 15: Virginia Beach, VA – Little Theater of Virginia Beach 
June 4: Reston, VA – Reston Pride 
...and more to come! 
See our full calendar and more: HERE
🎵 Want to see your humble hamlet or mediocre metro on our itinerary? 🎵
Forward this post to every theater, performing arts center, CEO, and elected official you can think of and demand Dragapella® for the people! Or simply hire us yourselves! We also do private bookings for any occasion or event – like birthday, anniversary, or Pride celebrations, and corporate or collegiate entertainments!