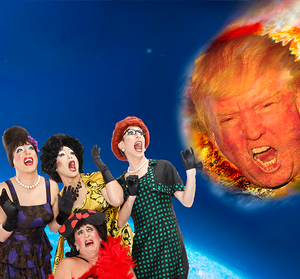 Things You Shouldn't Say
This is the remarkable true story of four friends from San Francisco who had a life-changing epiphany at a Bette Midler concert that led to them to form The Kinsey Sicks in an effort to find joy during the darkest days of the AIDS crisis. Now that the era of Trumpism is upon us, they're sharing their hilarious, inspiring and at times heartbreaking tale, and showing that hatred and deceit can be fought with humor and heart. 
This show was a smash hit Off-Broadway at New York's fabled SoHo Playhouse. Critics have described the show as "powerful," "provocative," "delicious," "subversive," "hilarious," "stirring," "exquisite," "electric," "outrageous," "heartbreaking," "brave," "mesmerizing," "flawless," "superb," "incredibly moving," "inventively diabolical," "riotously funny," "vitally significant," "an absolute must watch," and "theater at its BEST"! 
So come join America's Favorite Dragapella® Beautyshop Quartet as they lead us all in resisting these new dark times with laughter, integrity, and heroically high hair in an unforgettable new musical exploring Trumpism, racism, AIDS, extreme macramé, oblong vegetables and, of course, Bette Midler.

(To view the Monologue, which is the heart of the show and has inspired glowing coverage from The New Yorker, Forbes Magazine, BBC World, and more, see below.)
"

Named 1 of 11 shows as 'Best Theater of 2017: Broadway and Beyond'"
— Forbes Magazine
"

Hilarious ... it's a piercing cry from the heart "
— The Washington Post
"

Named one of the Top 10 'Shows You Won't Want to Miss' at the Edinburgh Festival (out of thousands of shows) "
— The Scotsman (Scotland's leading national paper)
"

The most subversive show of all is 'Things You Shouldn't Say'"
— The London Times
"

Riveting ... a humbling, hilarious delivery system of painful truths ... 'Things You Shouldn't Say' will push buttons you didn't know you had. And there is perhaps no higher compliment to give a queen than that. "
— Forbes Magazine